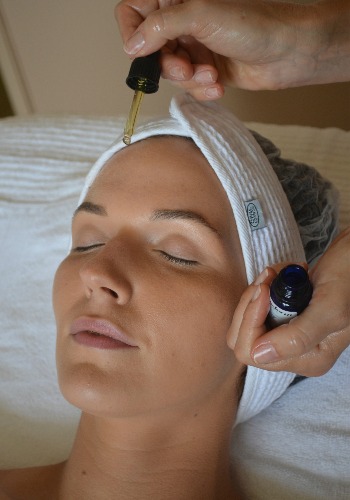 Enjoy ultimate relaxation with our indulgent pamper packages. Feel your body unwind as you experience a heavenly massage or revitalise yourself with a luxurious body polish. Choose from any of our pamper packages below or custom design your own package.
Swedish massage
30 min     $40
60 min     $75
Free your body from stress and relax with a Swedish massage that incorporates traditional techniques and nature's purest aromas. This massage will increase oxygen flow in your blood stream to release toxins from muscles. Designed to improve blood circulation, it will relieve stiffness and soreness in underlying muscles to reduce tension and stress.
Foot massage    
30 min     $35
Your feet are full of acupressure and reflexology points. This foot massage incorporates pressure point techniques to release tension throughout the body.
Lymphatic drainage (face)     
50 min     $65
Lymphatic drainage is a technique that relaxes the body's nervous system and aids the immune system. Using soothing massage and pressure point techniques, the lymphatic ducts are drained to remove toxins. Best results are achieved after several treatments and can include clearer skin, reduced inflammation and swelling.
Purifying back treatment     
40 min     $50
Cleanse and nourish your skin with our luscious purifying back treatment. This warming treatment begins with steam exfoliation to soften and detoxify your skin, a heavenly mask is then applied to clarify and penetrate minerals deep into your skin. Finished with a hydration massage, you will leave with silky smooth skin.
Body polish     
60 min     $70
Sweep away all signs of dryness and rough skin with a massage of mineral sea salts and warmed aromatherapy oil. Followed by hot towel pampering and a lavish saturation of luxurious moisturiser, your body will feel soothed and hydrated. Ideal before tanning or any special occasion, our body polish instantly refines skin tone and texture.
Truly, madly lovin' it      NEW
70 min     $90        
The ideal pamper package to gift to a loved one. This package includes a 40 minute aromatherapy facial, foot massage and eye treatment. Facial treatment includes hot towel pampering, double cleansing, steam therapy, exfoliation, mask and moisturising to rebalance and brighten skin tone. The eye treatment will reduce puffiness and tighten skin, reducing lines and appearance of dark circles. You will leave feeling truly, madly fabulous.
Chill out    
90 min     $110
One of our most popular pamper packages. This treatment includes a 40 minute express facial to deeply cleanse and rebalance your skin. Followed by a relaxing back exfoliation and massage to gently soften and polish your skin. After you have been refreshed and revitalised, the package will finish with a brow shape and tint.
Men's spa     NEW
90 min     $110
Specifically designed for men, this pamper package begins with a 40 minute facial treatment tailored to the needs of male skin. The Men's spa package also includes a relaxing 40 minute back, neck and scalp massage to alleviate tension and help you completely unwind.
Revitaliser     
120 min     $130
Unwind with a 40 minute express facial tailored to suit your skincare needs. Then enjoy ultimate hands and feet pampering with a pedicare, foot 
massage, hands buff and polish. Using a special blend of essential oils, our aromatic soak will leave your feet feeling smooth and healthy. Choose from an extensive range of nail polishes and put your best foot forward with the Revitaliser treatment.
Energiser     
120 min     $130
This indulgent package will re-energise your spirit. Beginning with a 60 minute body dry brushing and massage, to assist in the reduction of fatty deposits, fluid retention and toxins by detoxifying the skin's tissue. Followed by a relaxing foot scrub and mask to remove dry skin and promote skin repair. Finished with a luxurious eye treatment and scalp massage, the Energiser pamper package will relieve tension and invigorate your body.
Aroma Harmony     
120 min     $135
Regenerate while you enjoy a total body relaxation and beauty package. Your journey begins with a 50 minute purifying renew therapy facial, followed by a 30 minute massage of the arms, décolleté and scalp. The experience is completed with a hands buff and polish, leaving your entire body feeling relaxed and renewed.
To book your next pamper treatment, you can call us on 0403 954 409 or visit our Redcliffe beauty salon at Margate Village.