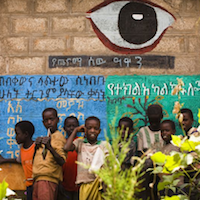 We're proud to help support one of our clients, Louise Hatton, with her goal of raising much-needed funds for ORBIS International, a sight saving charity.
We've donated a couple of Beauty Sense gift certificates for her raffles that will be drawn at a trivia night on 10 September at 7pm at the Redcliffe Leagues Club. If you're free on 10 September, the trivia night will make for a fun night out and you'll be supporting a great initiative. Click here for information about the trivia night.
Louise will be travelling on a self-funded trip to Ethiopia in November to volunteer with ORBIS and is seeking help to get her to her goal of $3,000. If you can't make it to the trivia night but would like to show your support, you can make a donation of any amount on her fundraising page at www.justgiving.com/louisehatton
For more information about ORBIS International visit www.orbis.org
If you're involved in any great causes and want our support, let us know in the comments below or by calling or visiting our salon in Margate, Redcliffe.