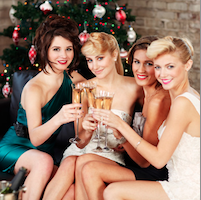 Christmas can be such a hectic time of year! Coupled with the humidity and heat of our climate, it can be difficult for us to look and feel beautiful at Christmas. Here are our Christmas beauty tips so you can look your best and feel happy with how you look in Christmas photos!
Festive make-up
Party make-up can be a difficult look to master so check out our festive make-up look article for the full details. The key to looking great is to put on your eye shadow first. Then apply your foundation and any other make up you want to wear. This way you prevent loose eye shadow from falling in paces you don't want it.
Simple up 'do
During the frantic rush at Christmas it can be difficult to maintain a good hair style… straightened hair can quickly become frizzy in the humidity and over-styled up 'dos can be ruined when running around to get organised for special events. That's why we recommend a simple up 'do. A top knot with a hair bun takes seconds to do and will hold in place all day – in fact, this hair style looks even better when it's slightly teased and distressed so it will keep looking better as the day goes on. Other suggestions are twisting or braiding sections of hair that you pull back into a bun. Check out this Pinterest board for inspiration.
Combat alcohol
Although you may love sipping a tasty mojito or cosmopolitan, your skin doesn't. Alcohol dehydrates you and can leave your skin dry, grey and dull. It's important to replenish your skin's moisture so you can keep looking radiant – cleansing your face with a gentle wash (such as Ultraderm's skin karma cleanser), moisturising your skin with vitamin rich creams (like Ultraderm's skin renew moisturiser) and drinking plenty of water are all musts. You could also treat yourself to a revitaliser therapy facial to really hydrate your skin and create a healthy, glowing look.
Awaken tired eyes
All the Christmas parties, hectic shopping trips and general end-of-year rush can make your eyes look tired. To awaken your eyes and reduce puffiness, try gently massaging around your eyes with an eye product such as Ultraderm's eye restore serum. Begin at the corner of one of your eyes and work your way up, between your brow bone and your eye, rubbing as you go until you reach the outer edge of your eye. Repeat along your lower lash line. Try not to pull on the skin, you should instead apply gentle pressure in small circular motions and lift your fingertips as you move them along. Some beauty experts swear by facial massaging, saying it can help keep skin looking youthful and reduces the appearance of wrinkles.
Reduce bloating
Being bloated is a common problem when you're run down or rushing about and not taking enough time for you. There are a few tricks that can help flatten your tummy. Try drinking a green smoothie or juice in the morning – our favourite is a mix of cucumber, celery, mint and apple. It can help support your digestive system and prevent bloating so you can look incredible in your Christmas outfit. You can also reduce the amount of foods that cause you bloating – generally refined sugar, milk products and rich cheeses can trigger bloating.
Have a great time
Enjoying yourself and feeling confident in your own skin is what will make you look and feel the most beautiful at Christmas. It sounds so simple, but it really is the most effective beauty tip of all. Spend this Christmas with people you like and who make you feel good about yourself. Having a great time is the perfect beauty treatment because when you're having a great time it shows: your skin glows, your eyes brighten and everyone warms to you and wants to spend time with you.
Wishing you a very merry Christmas!