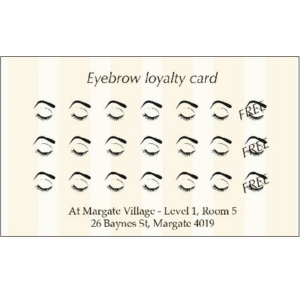 Now you've probably heard of coffee loyalty cards, but have you ever heard of an eyebrow loyalty card?
We know there's nothing better than the feeling of newly waxed eyebrows!
That's why we've introduced an eyebrow loyalty card. With a Beauty Sense eyebrow loyalty card, you can enjoy every 7th eyebrow wax free.
It's just our little way of helping you enjoy that great eyebrow feeling more often.
Come in to our beauty salon in Margate today or call us on 3284 2218 to book your next appointment!
Check out our article about brow shaping and scultping for more information about our eyebrow waxing treatments.