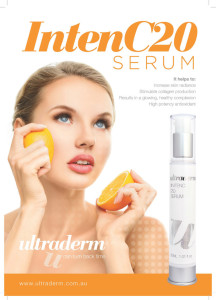 We are so excited to introduce the latest Ultraderm homecare product – the IntenC20 Serum!
Given the success of the popular Absolute C Serum with 10% Vitamin C, Ultraderm stepped up the range to create IntenC20 with double the amount of Vitamin C.
This serum helps increase skin radiance, collagen stimulation and skin hydration resulting in a glowy, healthy complexion.
If you're looking for a product to really boost your anti-ageing skin care routine – this is it!
Apply in the morning after cleansing and toning by putting a few drops onto your finger tips and gently pressing into skin. Finish your morning skin care routine with an Ultraderm moisturiser such as the Absolute C Cream or Daily Protector Moisturiser with SPF 30+ – both available at Beauty Sense.
With a regular price of $95 we're offering a special introductory price of the IntenC20 Serum at just $85 but only for the month of May.
Get your hands on this newest product at our beauty salon or by calling us on 0403 954 409!