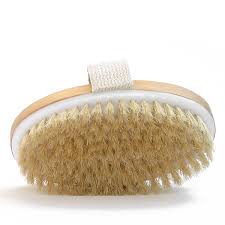 Swimsuit season is hear… meaning it's time to bare some skin!
While we may not have a supermodel's body, we can achieve firm and glowing skin.
We regularly talk about the benefits of body brushing because it works! Just a couple of minutes each day can increase your circulation, tighten your skin and reduce the appearance of cellulite. Body brushing will also open your pores releasing stored toxins.
Here are some tips for doing brushing yourself from home:
– never brush on sunburnt or inflamed skin
– only brush on dry skin
– always use a plant bristle skin brush and wash the brush regularly
– it's best to brush from the left to right side of the body, in upward stroke movements.
You can buy a body brush from most supermarkets, Priceline and the Body Shop. Check out our article on best supermarket beauty buys.
Of course if body brushing seems too hard or you simply prefer to be pampered, you can enjoy our body polish treatment where we'll do the work for you. The treatment includes dry brushing, warm towel compresses, grapefruit scrub and massage. You'll leave feeling invigorated with radiant and smooth skin.
You can book an appointment at our salon by calling 3284 2218 or visiting our salon in Margate, Redcliffe.